Chicago Bulls - Kornel David
---
*** 1999-2000 Chicago Bulls Roster ***



Head Coach - Tim Floyd (Louisiana Tech)

 No.   Name                 Pos.  Hgt.  Wgt.  Birthdate  College        Exp.
 ---   ----                 ----  ----  ----  ---------  -------        ----
  1    Randy Brown           G    6-2   191   05/22/68   New Mexico State 8
  3    Hersey Hawkins        G    6-3   200   09/29/66   Bradley         11
  6    Lari Ketner           C    6-10  285   02/01/77   Massachusetts    R
  7    Toni Kukoc           F/G   6-11  235   09/18/68   Croatia          6
  8    Dickey Simpkins       F    6-10  255   04/06/72   Providence       5
  9    Dedric Willoughby     G    6-3   190   04/06/72   Iowa State       R
 11    Chris Anstey          C    7-0   249   01/01/75   Australia        2
 11    B.J. Armstrong        G    6-2   185   09/09/67   Iowa            10
 15    Ron Artest            G    6-7   246   11/13/79   St. John's (NY)  R
 18    Kornel David          F    6-9   235   10/22/71   Hungary          1
 20    Fred Hoiberg          G    6-4   203   10/15/72   Iowa State       4
 25    Corey Benjamin        G    6-6   205   02/24/78   Oregon State     1
 32    Will Perdue           C    7-0   240   08/29/65   Vanderbilt      11
 42    Elton Brand           F    6-8   260   03/11/79   Duke             R
 51    Michael Ruffin        F    6-8   246   01/21/77   Tulsa            R



        ASSISTANT COACHES: Bill Cartwright (San Francisco)
                           Jim Woolridge (Louisiana Tech)
                           Bill Berry
                           Phil Johnson
                  TRAINER: Fred Tedeschi (Pacific)


Bulls Notebook
Hungary native David gets hungry in offseason
Thursday, October 7, 1999
By Paul Ladewski
Staff Writer
---
Warning to NBA power forwards: Now David is Goliath.

The Michelin Man at the Berto Center in Deerfield these days is none other than Kornel David, who added a couple of dozen pounds of beef during the offseason.

"It's good weight," Bulls coach Tim Floyd said.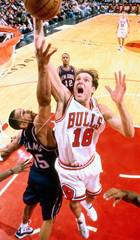 Floyd wasn't so sure of that fact three weeks ago, when he learned that David was 24 pounds heavier than the 235-pound version of last training camp.
So concerned was Floyd that he asked team strength and conditioning coaches Erik Helland and Al Vermeil to rerun David through speed, quickness and agility drills.
"I knew that he had been lifting and working hard," Floyd said of David. "So I had him retested to find out if he had lost anything, and he was at the same level with the added weight that he had been a year ago. Given that, it has to help him."
David was perhaps the most pleasant surprise in an otherwise forgettable 1999 Bulls season, one in which the native of Hungary led the team in floor burns.
"He did this on his own," Floyd said. "He must have taken one too many knots on the head last season."
Find Sports Scores,
Standings
and Stats:
Find Sports Scores, Standings and Stats: Go Get It !

Basketball Digest
Magazine Description Basketball Digest is written expressly for fans interested in professional basketball. There is complete coverage of NBA teams, including player profiles, action photos, rosters, schedules, statistics, and player data. Regular departments include a crossword puzzle and quiz.
Magazine Description Chicago has news and features on personalities, politics, trends, culture, and lifestyle issues of particular interest to people in the Windy City. Regular columns cover business, the media, high-profile women, and the local theater and movie scene. Each issue of Chicago contains restaurant reviews as well as extensive listings of recommended restaurants.
Women's Basketball
Magazine Description Women's Basketball is a magazine covering women's hoops. It interviews standout players, looks back on pioneers of the game, tracks WNBA, college, and high school action, and delivers exciting photos in every quarterly issue.
---